As the entire decade of the 2010s comes to a close, Raymond humbly shares with you what an amazing and busy ten years it has been.
In 2010, HUNT THROUGH NAPOLEON'S WEB was published, along with CHOICE OF WEAPONS, an anthology containing three of Raymond's earlier James Bond novels.
2011 saw the publication of the first entry in a five-book serial that Raymond calls his "magnum opus"–THE BLACK STILETTO (from Oceanview Publishing). Additionally, two other novels were published as e-books (and subsequently became available in print and audiobook)–ARTIFACT OF EVIL and TORMENT–A LOVE STORY. Finally, Raymond's tie-in, co-authored with filmmaker John Milius, HOMEFRONT–THE VOICE OF FREEDOM, was published. Crossroad Press also began publishing Raymond's BACK LIST of original novels as e-books and audiobooks.
In 2012, THE BLACK STILETTO–BLACK & WHITE and HITMAN: DAMNATION were published. Additionally, all six of Raymond's JAMES BOND NOVELS (originally published between 1997 and 2002) were made available as e-books.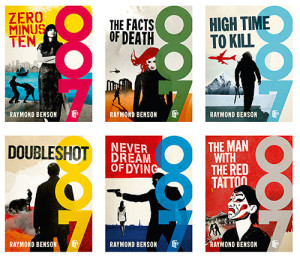 In 2013, THE BLACK STILETTO–STARS & STRIPES made its debut from Oceanview Publishing.
The year 2014 was a busy one. THE BLACK STILETTO–SECRETS & LIES premiered, followed by Raymond's collaboration with fellow 007 author Jeffery Deaver as co-editors of the annual Mystery Writers of America anthology, entitled ICE COLD–TALES OF INTRIGUE FROM THE COLD WAR. The collection contained short stories by both Raymond and Jeff, along with many other terrific authors and members of MWA. The year closed with the publication of the final book in the serial, THE BLACK STILETTO–ENDINGS & BEGINNINGS.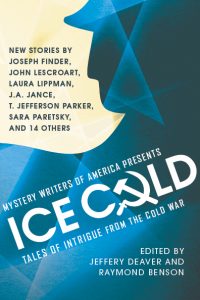 In 2015, Crossroad Press published an anthology of Raymond's unpublished and previously published short stories, along with a stage play, entitled 12+1–TWELVE SHORT THRILLERS AND A PLAY. Raymond's tie-in to the popular videogame, DYING LIGHT–NIGHTMARE ROW, was published in Poland. Finally, Oceanview published as an e-book anthology, THE BLACK STILETTO–THE COMPLETE SAGA.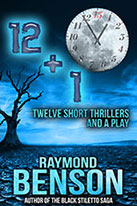 2016: DYING LIGHT–NIGHTMARE ROW was published in English.
In 2017, Raymond began a relationship with Skyhorse Publishing with the appearance of THE SECRETS ON CHICORY LANE. His short story, THE MacGUFFIN, was published as an e-book after appearing as "The Purple Bag" in the online magazine, HOP Media, in 2016.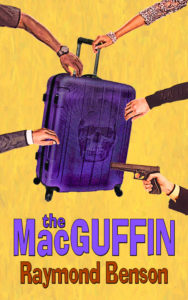 2018 saw the publication of IN THE HUSH OF THE NIGHT.
In 2019, Raymond's latest suspense novel, BLUES IN THE DARK, was published by Skyhorse's new imprint, Arcade CrimeWise, and his musical score for the short film, GHOSTS IN THE INK, won the award for Best Score at the Vegas Movie Awards.
All of these works, as well as Raymond's back list from the 80s, 90s, and 00s, are available for purchase on the various Books pages:
Fiction and Non-Fiction
The Black Stiletto Serial
James Bond Novels
Media Tie-Ins
RAYMOND WOULD LIKE TO WISH EVERYONE A MERRY AND SAFE HOLIDAY SEASON AND A HAPPY NEW YEAR!
ONWARD TO THE 2020s!