Raymond was the third—and first American—continuation author of the official James Bond novels between 1996 and 2002.
Some titles may be out of print on paper, but they are available as ebooks and audiobooks, and/or in the second-hand market. All Amazon links are affiliated with the Amazon Associates program and are #CommissionsEarned links.
Check out selected reviews of these titles here.
ORIGINAL 007 NOVELS
James Bond: The Raymond Benson Years
An e-book bundle of all six complete original James Bond 007 novels by Raymond Benson, published 1997-2002. Contains: ZERO MINUS TEN, THE FACTS OF DEATH, HIGH TIME TO KILL, DOUBLESHOT, NEVER DREAM OF DYING, and THE MAN WITH THE RED TATTOO. Get all six books at a nice price!
Coming Soon!





Zero Minus Ten
In the Australian desert, a nuclear bomb explodes.
In England, two police officers are shot dead when they investigate a cargo in Portsmouth dock.
And in Hong Kong, an explosion rips through one of the colony's famous floating restaurants, killing the entire Board of EurAsia Enterprises Ltd, a multi-billion dollar shipping corporation.
These apparently random events are connected—and 007 must find out how and why. Traveling to one of the world's most exotic locations, James Bond encounters such diverse characters as a mysterious British taipan, a sinister Triad leader, a sadistic Chinese general and an enchanting exotic dancer—and eventually comes face to face with one of the most formidable adversaries of his career.
Buy from Amazon: U.S. Edition | Kindle ebook | U.K. Edition | Audiobook
The Facts of Death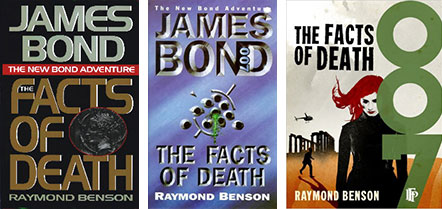 A dozen British soldiers are poisoned in Cyprus and James Bond himself barely escapes with his life. Then M's lover is assassinated in London and dies in her arms…
Following leads to Texas, Bond fears he will uncover an international scandal that could engulf his service and his country. Instead, he finds his first trace of the Decada.
Held together by archaic philosophy and their own bizarre rituals, the Decada's fanatics have stockpiled a terrifying range of poisons and are willing to use them for further insane ambitions for power and revenge.
Aided by beautiful, brave Greek intelligence agent Niki Mirakos, Bond puts himself into the firing line for a last ditch attempt to stop the Decada before they unleash a horrifying weapon on their helpless prey.
Buy from Amazon: U.S. Edition | Kindle ebook | U.K. Edition | Audiobook
High Time to Kill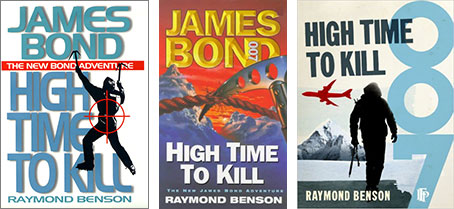 When information vital to Britian's national security is stolen by a shadowy organization called the Union, the trail leads Bond from one of England's most exclusive golf clubs to the cosmopolitan city of Brussels, and finally to an expedition up the icy heights of the legendary mountain Kangchenjunga, the third tallest peak in the world.
In his most thrilling adventure yet, Bond must pit his strength and guile against two deadly adversaries – the forces of nature at high altitude and the most resourceful criminal minds he has ever encountered.
Buy from Amazon: U.S. Edition | Kindle ebook | U.K. Edition | Audiobook
DoubleShot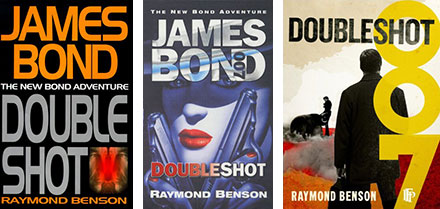 The intricately organized criminal conspiracy called the Union has vowed its revenge on the man who thwarted its last coup. Now, the Union's mysterious leader sets out to destroy James Bond's reputation and sanity by luring the agent into a dangerous alliance of deceit and treason with a Spanish militant intent on reclaiming Gibraltar.
Officially on medical leave as a result of a head injury sustained on his last adventure, 007 ignores M's orders and pursues clues that he believes might lead him to the Union's inner circle. His search takes him from the seedy underbelly of London's Soho to the souks of Tangier; from a terrorist training camp in Morocco to a bullring in Spain; and from the clutches of a murderous Spanish beauty to a volatile summit conference on the Rock of Gibraltar.
Each step brings 007 closer to the truth about the Union's elaborate, audacious plot to destroy both SIS and its best agent: James Bond.
Buy from Amazon: U.S. Edition | Kindle ebook | U.K. Edition | Audiobook
Never Dream of Dying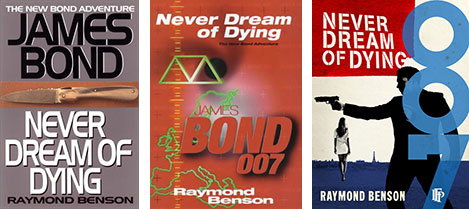 In Raymond Benson's chilling new James Bond novel, 007 comes face to face at last with the most cunning criminal mastermind he has ever fought—the blind genius behind the brutal organization called the Union.
It begins at a movie studio in Nice, where a police raid goes horribly wrong, with innocent men, women and children killed. It continues in an English prison, where a corpse discloses an intriguing secret about the Union. The trail leads James Bond to Paris, where he meets the tantalizing movie star Tylyn Mignonne and embarks on a voyage of sensual discovery.
But Tylyn is in mortal danger. Her former husband, a volatile French film producer, has not forgiven his glamorous ex-wife for ending their troubled marriage—and he is connected to the Union's thugs.
Meanwhile Bond's friend Mathis, a French agent, has disappeared while tracking down the Union's mysterious leader, Le Gerant. Bond's search for Mathis takes him to a thrilling underwater brush with death, a chase through the Corsican wilderness, a surprise encounter with an old friend—and a final confrontation with a twisted criminal genius.
Buy from Amazon: U.S. Edition | Kindle ebook | U.K. Edition | Audiobook
The Man with the Red Tattoo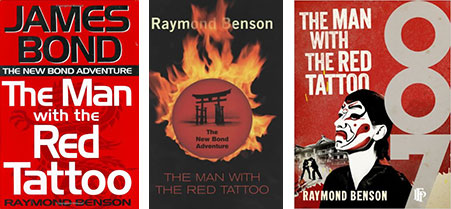 On a quiet late-night flight from Tokyo to London, a beautiful young woman, Kioko McMahon, falls ill. Before the plane can reach emergency medical facilities across the Pacific, she succumbs to her inexplicable symptoms. The mystery deepens when police in Japan discover that her family shared her fate. The only survivor is her rebellious sister, Mayumi, who had run off with her gang-member boyfriend several years before.
Because the late patriarch of the family, Peter McMahon, was the head of one of the world's most important genetic research companies, and a personal friend of the Prime Minister, James Bond is sent to investigate the deaths. 007's quest for answers leads to the surviving sister and to a nest of Yakuza gangsters. Along the way, he uncovers a plot of such monstrous proportions that it could only have been hatched in the mind of a madman.
Buy from Amazon: U.S. Edition | Kindle ebook | U.K. Edition | Audiobook
The Union Trilogy
An anthology containing three of Raymond Benson's James Bond 007 novels—High Time To Kill, Doubleshot, and Never Dream of Dying. The book also features the never-before published (in English) full-length short story "Blast from the Past" and a new introduction by the author!
Buy from Amazon: U.S. Edition
Choice of Weapons
A second anthology containing three of Raymond Benson's James Bond 007 novels—Zero Minus Ten, The Facts of Death, and The Man with the Red Tattoo. The book also features two rare short stories, "Live at Five" and "Midsummer Night's Doom," and a new introduction by the author!
Buy from Amazon: U.S. Edition
NON-FICTION
The James Bond Bedside Companion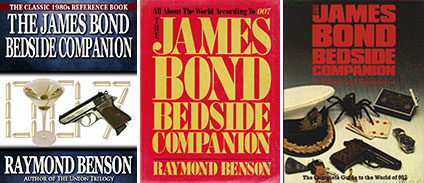 An encyclopedic celebration of 007, the world's most popular secret agent, The James Bond Bedside Companion was at the time of its original publication (1984) the most comprehensive single-volume guide to the James Bond phenomenon available. An updated edition appeared in 1988, and it is this version's text that appears in the current ebook. The first edition was nominated for the Edgar Allan Poe Award Best Biographical/Critical Work by Mystery Writers of America.
In addition to an intimate portrait of Ian Fleming as remembered by his friends and colleagues and a detailed analysis of every one of Fleming's James Bond titles, this indispensable collection includes:
An in-depth character study of James Bond, including a sketch of his background and early life, detailed descriptions of his trademarked clothing and other personal habits, including his preferences in food and drink, and a portrait of his famous (or infamous) attitudes toward women and marriage;
Information about the many by-products of Bondmania and the merchandising of 007, such as Bond's line of toiletries, board games, trading cards, Oddjob Action Dolls, and t-shirts;
Contact information for the many James Bond fan clubs around the world;
A critical look at the 007 film series that includes a cornucopia of trivia and essential information on the films' producers, screenplays, directors, actors, soundtracks and special effects;
Over 100 seldom seen photographs;
And enough facts, figures, and miscellanea to satisfy even the most ardent fan.
NOTE: This book is now rare and out of print in all print editions. However, it is currently available as an ebook (1988 edition text with corrections) and with a new Introduction by the author.
Buy it: U.S. Edition |  Kindle ebook | U.K. Edition | Audio book from Audible
MOVIE TIE-INS
Tomorrow Never Dies
A man who can start a war anytime and anyplace—and profit from it—would be the most powerful man in the world. Elliot Carver knows this. And he has a plan to turn his media conglomerate into a true empire, exploiting global conflicts he creates with on-the-spot news coverage guaranteed to bring him the highest ratings in television history.
It starts with a sudden mysterious skirmish that leaves two Chinese MiGs and a Royal Navy frigate at the bottom of the South China Sea. It could end with an all-out world war on live TV. But there is one man who can stop it… James Bond.
Buy from Amazon: U.S. Edition | U.K. Edition
The World is Not Enough
After oil tycoon Sir Robert King is killed bombing at MI6 headquarters, his daughter, Elektra, inherits his fortune—billions of dollars worth of oil deposits in the Caspian Sea… and James Bond, 007, as a bodyguard. Her new wealth attracts international interest. But she has also attracted the attentions of her father's killer…
His name is Renard. A bullet lodged in his brain has rendered him unable to feel physical pain, and he has but one reason left to live—revenge. There's only one man who can take the heat between a beautiful heiress, a malicious sociopath and his final diabolical plan.
Buy from Amazon: U.S. Edition | U.K. Edition
Die Another Day
The action-packed story begins in a demilitarized zone between North and South Korea with a spectacular high-speed hovercraft chase.
From Hong Kong to Cuba to London, Bond continues his quest to unmask a traitor and prevent a war of catastrophic consequence—but not without the help and hindfrance of two mysterious femmes fatales. Hot on the trail of the principal villains, Bond travels to Iceland, where he experiences at first hand the power of an amazing new weapon before a dramatic confrontation with his main adversary back in Korea where it all started.
Buy from Amazon: U.S. Edition | U.K. Edition | Audio book from Audible

SHORT STORIES
"Blast from the Past" (1997)
"Midsummer Night's Doom" (1999)
"Live at Five" (1999)
Raymond penned three James Bond short stories. "Blast from the Past" appeared in Playboy Magazine (January 1997), "Midsummer Night's Doom" appeared in Playboy Magazine (January 1999), and "Live at Five" appeared in TV Guide (November 13-19, 1999). "Blast from the Past" was condensed for Playboy; the full-length version appears in the print anthology The Union Trilogy. The other two stories appear in the print anthology Choice of Weapons. "Midsummer Night's Doom" is considered a novelty story and not meant to be a serious 007 adventure in canon.