PERSONAL APPEARANCES
Watch this space for upcoming events where you can meet Raymond.
THURSDAY, JUNE 27, 2019; 6:30 PM
Arlington Heights Memorial Library
500 N. Dunton Avenue
Arlington Heights, IL 60004
Call (847) 392-0100 for more info
RAYMOND INTRODUCES & LEADS DISCUSSION ON "2001: A SPACE ODYSSEY"!
SATURDAY, AUGUST 17, 2019; 11:00 AM
Zion-Benton Public Library
2400 Gabriel Ave.
Zion, IL 60099
Call (847) 872-4680 for more info
"THE JAMES BOND PHENOMENON" SLIDESHOW PRESENTATION!
*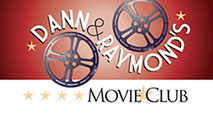 DANN & RAYMOND'S MOVIE CLUB EVENTS!
The 13th Season of DANN & RAYMOND'S MOVIE CLUB, featuring Raymond and Chicago film critic Dann Gire, begins in September 2019 with regular monthly shows through June 2020 at the Schaumburg Township District Library (usually the first Thursday of each month) and the Arlington Heights Memorial Library (usually on the second Thursday of each month). We will appear at the Palatine Public Library every other month (usually on the second Wednesday of Oct., Dec., Feb., Apr., Jun.). There may be other library appearances during the year as well, so watch this space! Admission is always FREE!
THURSDAY, AUGUST 1, 2019; 6:30 PM
Elmhurst Public Library
125 S. Prospect Ave.
Elmhurst, IL 60126
Call (630) 279-8696 for more info
TOPIC: "Foreign Correspondence–FILM CLASSICS From the Rest of the World"
WEDNESDAY, AUGUST 21, 2019; 6:30 PM
Rolling Meadows Library
3110 Martin Lane
Rolling Meadows, IL 60008
Call (847) 259-6050 for more info
TOPIC: "Darkness, Danger, and Dames–the WORLD OF FILM NOIR"