As 2023 rolls onward, Raymond has some NEWS!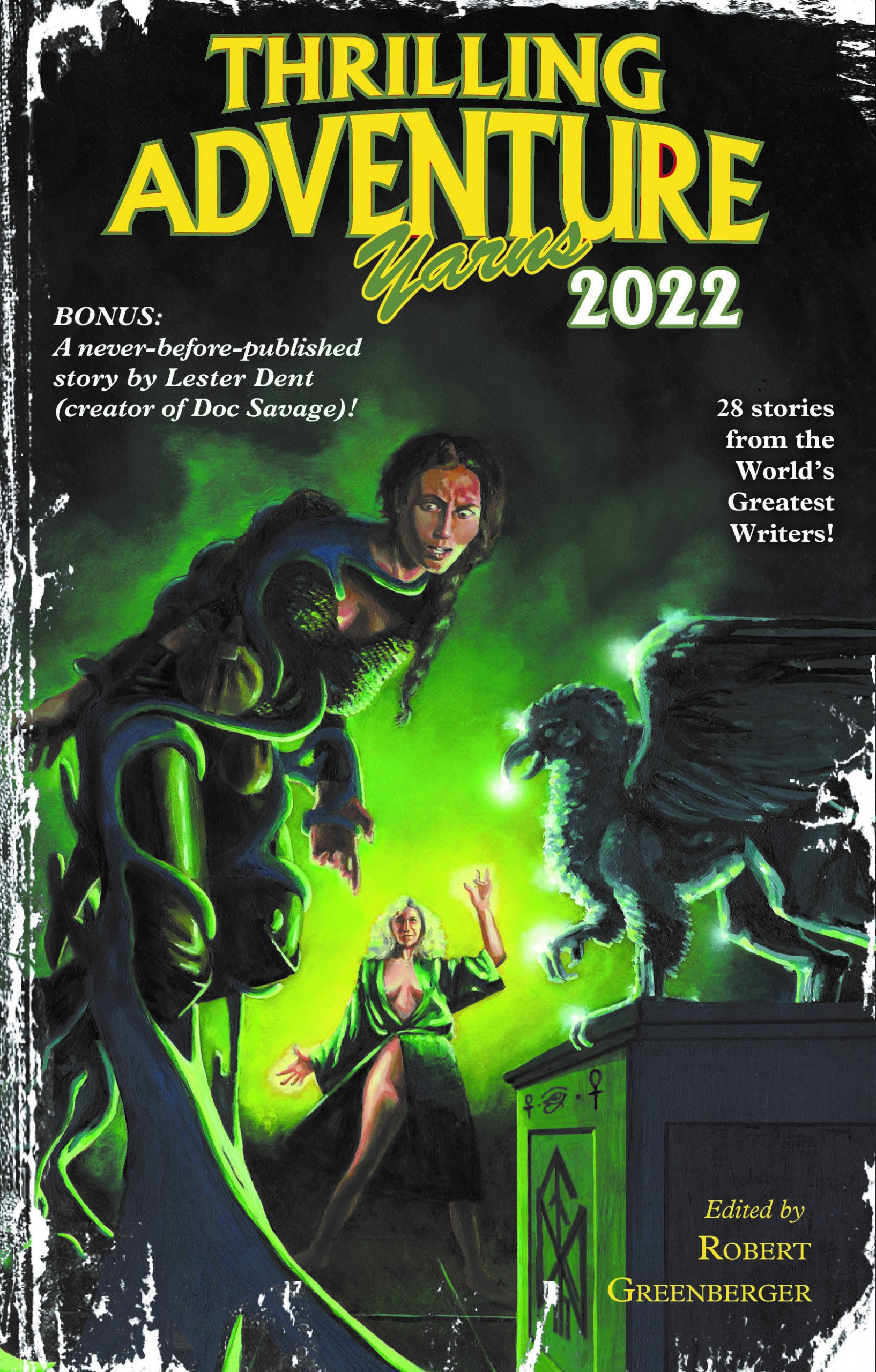 FIRST, Raymond appears in the anthology, THRILLING ADVENTURE YARNS 2022, an anthology of pulp, fantasy, sci-fi, adventure, horror, and plain ol' awesome short stories by 28 fantastic authors (plus illustrations!). It contains Raymond's tale, "SEA PEOPLE." Robert Greenberger is the editor and producer/overseer, and the authors include Raymond plus Lester Dent, David Gerrold, Aaron Rosenberg, Bart Sears & Michelle Sears, Geoffrey Thorne, Glenn Hauman, Greg Cox, Hildy Silverman, Jean Rabe. Jenifer Rosenberg, Jody Lynn Nye, Kathleen David, Peter David, Keith R.A. DeCandido, Lucienne Diver, Mark Verheiden, Mary Fan, Michael Jan Friedman, Paul Kupperberg, Caitlin Rozakis, Russ Colchamiro, and Will Murray.
You can order the book in the Short Stories section at the bottom of the Fiction/Non-Fiction Page!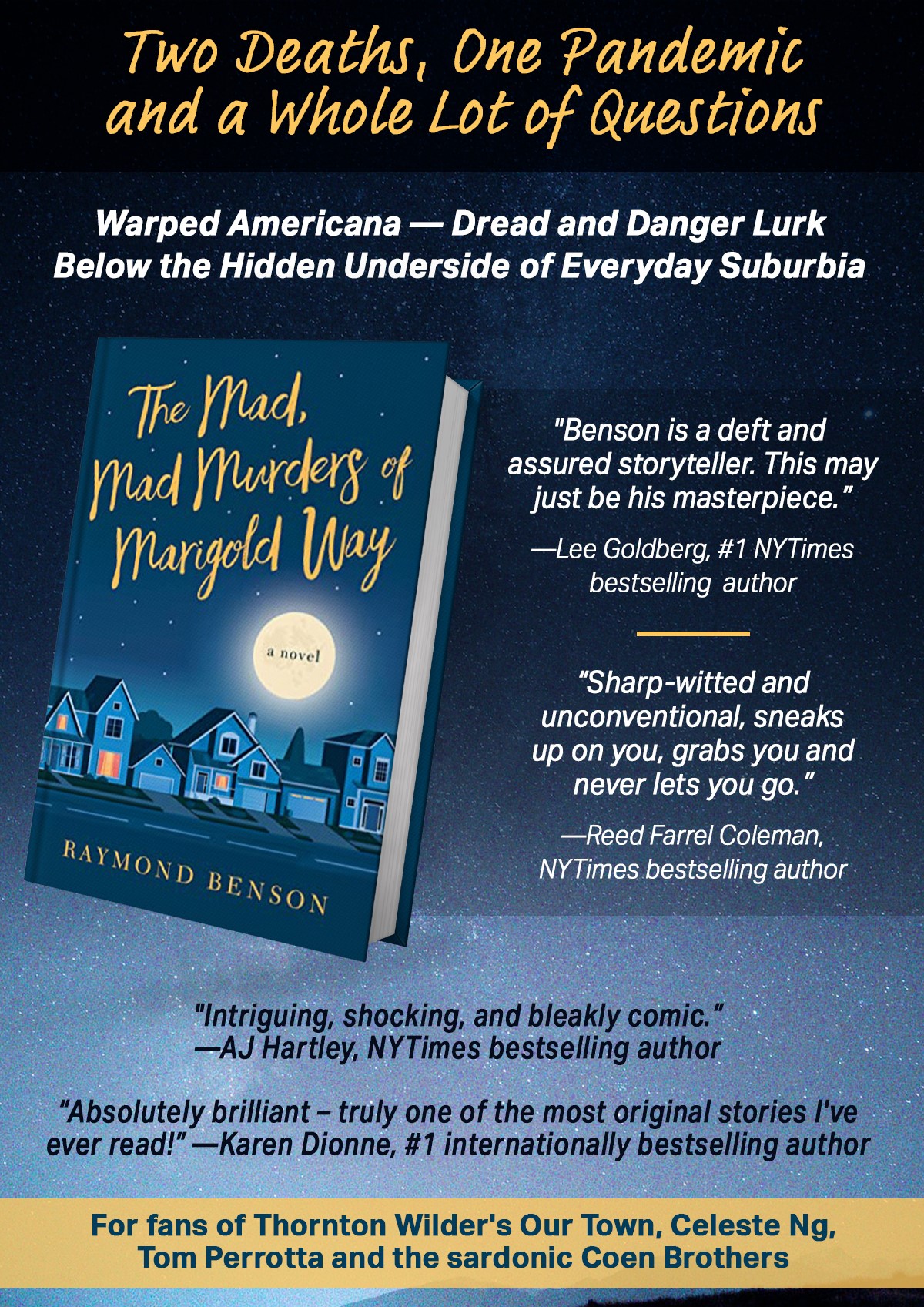 SECOND, Raymond's latest novel, THE MAD, MAD MURDERS OF MARIGOLD WAY, is garnering wonderful reviews and attention.
Publisher's Weekly gave the book a STARRED review, saying: "This stellar mystery set in May 2020… focuses on TV writer turned novelist Scott Hatcher and Rachel Bergman, Scott's dutiful housewife neighbor, who live in Lincoln Grove, a quiet Chicago suburb. When their respective spouses turn out to have gone missing on the same day, Lt. Pat Dante, of the Lincoln Grove PD, investigates. The stakes rise with the discovery of the remains of the missing spouses in a house destroyed by arson. Curiously, large amounts of personal protective equipment, apparently stolen, were burned in the fire. Scott and Rachel fall under suspicion, and they grow closer as Dante tries to untangle a spiraling web of crime. Though all the characters are painted with convincing brushstrokes, it's the narrator, not identified until the end, who steals the show. "I'm the storyteller here, and I can tell the tale any way I choose!" he declares, and he freely editorializes and speculates about others, himself, and the troubled times following the lockdown caused by the Covid-19 pandemic. This wild roller coaster of a novel is an attention-grabber from first page to last."
See other early reviews on the Fiction Reviews page!
Fans of Thornton Wilder's classic Our Town and films by the sardonic Coen Brothers will be captivated by the warped Americana of The Mad, Mad Murders of Marigold Way.
Order now from the Fiction/Non-Fiction Page! Available in hardcover, e-book, and audiobook.
SHELF UNBOUND 2022 Best Indie Book Finalist and Notable Indie!


FINALLY, Subscribe to Raymond's YouTube Channel to see and hear his eclectic repertoire of 100+ classic rock, movie music, and original compositions on piano!
OF COURSE, many of Raymond's previous books go on sale as e-books at various times. It's always best to follow Raymond's Facebook and Twitter posts to take advantage of these sales. In the meantime, his recent novels like BLUES IN THE DARK, IN THE HUSH OF THE NIGHT, THE SECRETS ON CHICORY LANE, HOTEL DESTINY: A GHOST NOIR, and the five-book serial, THE BLACK STILETTO, are all still available. Find them on the Books pages (James Bond; The Black Stiletto; Fiction & Non-Fiction; Tie-Ins)!
RAYMOND SENDS HUGS TO EVERYONE AND SAYS, "BE SAFE AND BE HEALTHY!"