October 30, 2012
HITMAN: DAMNATION is published today! This is a "prequel" to IO Interactive's upcoming videogame, "Hitman: Absolution." It also works as a stand-alone novel, so readers do not have to be familiar with the videogame to enjoy it.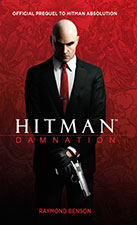 RAYMOND'S JAMES BOND NOVELS ARE NOW AVAILABLE FOR KINDLE!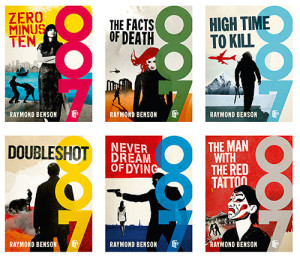 Raymond's original James Bond 007 novels, originally published between 1997 and 2002, are now available as e-books for Kindle (other formats will come in the future)! They come with newly-designed covers (above) and they're at a nice price.
ZERO MINUS TEN
THE FACTS OF DEATH
HIGH TIME TO KILL
DOUBLESHOT
NEVER DREAM OF DYING
THE MAN WITH THE RED TATTOO
October 15, 2012
THE BLACK STILETTO: BLACK & WHITE is now another unique 3-voice AUDIOBOOK from Crossroad Press and Audible.com. Get it from Audible!
Raymond's "historical supernatural thriller," ARTIFACT OF EVIL, originally published as an e-book in 2011, is now available in print (trade paperback).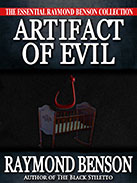 May 1, 2012
THE BLACK STILETTO e-book reached the Amazon Kindle Store's Top Ten (#7!) recently. Things are gearing up for the publication of the sequel, THE BLACK STILETTO: BLACK & WHITE (May 30). Watch this space and Raymond's Facebook author page for updates, contest announcements, price drops, reviews, and other Black Stiletto news.
Check out the very nice interview with Raymond and the review of THE BLACK STILETTO: BLACK & WHITE on "The Big Thrill" e-newsletter from the International Thriller Writers: here!
Novelspot.com features a seven-part blog by Raymond about "How I Became a Writer." This link goes to Part 1; follow the links to the other parts.
February 11, 2012
The film rights to THE BLACK STILETTO have been picked up by Lonetree Entertainment. Benson was represented by veteran literary and film manager, Peter Miller, of Global Lion Intellectual Property Management, Inc.
"Stiletto was a real find and we're all very excited about the potential of this unique genre-bending project," said Lonetree producing partner Tony Eldridge. Lonetree Entertainment is currently partnered with Escape Artists and Sony Pictures on "The Equalizer" feature film starring Denzel Washington. The company has a number of other projects in development, including the epic WWII action drama, "The War Magician" with Marc Forster attached to direct, and "The Kitchen House," based on Kathleen Grissom's New York Times bestseller. Lonetree is fast tracking Stiletto and is currently in discussions with several A-list screenwriters.
In other news, THE BLACK STILETTO: BLACK & WHITE (#2 in the series, publication date May 30, 2012) has received its first review from Bestsellersworld.com!
February 5, 2012
HOMEFRONT: THE VOICE OF FREEDOM, by John Milius and Raymond Benson, won the "Lovey" (Readers Choice) Award for Best Paranormal / Sci Fi / Horror Novel of 2011 at the Love is Murder writers conference in Chicago, Illinois!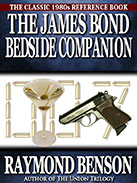 January 10, 2012
Now Available! The classic 1980s reference book all about 007, THE JAMES BOND BEDSIDE COMPANION, has been re-published!
THE JAMES BOND BEDSIDE COMPANION was Raymond's very first published work (it originally appeared in 1984!). Crossroad Press will publish it again this week, first as an e-book, available for Kindle, Nook, Sony Reader, and all other e-reader formats. Coming later will be an downloadable audiobook edition, followed by a new print edition!
THE BEDSIDE COMPANION was nominated for an Edgar Allan Poe Award for Best Biographical/Critical Work of 1984 by Mystery Writers of America and 007 fans still consider it to be a "Bond Bible."
Also Available! THE ESSENTIAL RAYMOND BENSON COLLECTION! Crossroad Press has also re-published all of Raymond's backlist original thrillers in e-book format. As with the BEDSIDE COMPANION, in the coming months each title will appear as a downloadable audiobook and print edition.
You can buy every e-book format directly from Crossroad Press here. Or, you can go directly to Amazon for the Kindle-only editions. The titles will appear soon on the Barnes & Noble site.
In other news, THE BLACK STILETTO continues to garner great reviews. Check out Praise page on the official Black Stiletto website for samples and links to full reviews. More will be added as they come in.