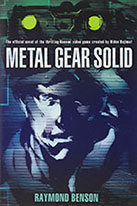 November 9, 2009
A new thriller short story, AFTER THE GIG, has been published online at the Popcorn Fiction Website! Read it for free! After one week on the front page, you'll find it under "Read Previous Stories."
METAL GEAR SOLID 2—SONS OF LIBERTY is trickling into stores (official publication date is November 24)! This is the second book based on Konami's popular videogame series.
Several of Raymond's original novels are now available on Amazon Kindle! Go to Amazon and search for "Raymond Benson" in the Kindle Store section. They're also available on the Smashwords site!
October 5, 2009
A HARD DAY'S DEATH has been published in Italian by Alacran Edizioni!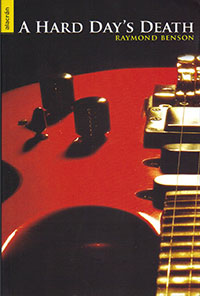 October 22, 2007
Raymond appears in the new book of essays, HOW I GOT PUBLISHED, edited by Ray White and Duane Lindsay, published by Writer's Digest Books. In the book, famous authors tell you, in their own words, testimonials, revelations, and confessions about the publishing business. Raymond's essay is entitled "Bondage Paraphernalia" and deals with his James Bond work and his modus operandi. A must for anyone interested in writing! Authors in the book include Clive Cussler, Gayle Lynds, J. A. Jance, F. Paul Wilson, David Morrell, J.A. Konrath, John Lescroart, Gillian Roberts, Barry Eisler, and many more!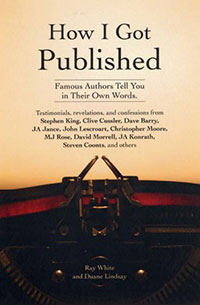 August 8, 2007
Raymond's predecessor as James Bond novelist, John Gardner, passed away on August 3. Raymond writes this in tribute to his friend and fellow comrade-in-arms:
"I was saddened to hear of John Gardner's passing. I had my first book-signing (THE JAMES BOND BEDSIDE COMPANION) in 1984 alongside John Gardner at the Mysterious Bookshop in New York (he was signing ROLE OF HONOR). Even though I made criticisms, as well as praises, of his Bond novels in my BEDSIDE COMPANION, we became friends and stayed in touch throughout the years. I have fond memories of my visit to his Virginia home for a weekend in 1993 to write an extended piece on John and his works for 007 Magazine. I have nothing but respect for John and the legacy he left. We've lost an artist with true integrity."
July 6, 2007
Hofstra University in Hempstead, New York, has named Raymond as the 2007 JOSEPH G. ASTMAN DISTINGUISHED CONFERENCE SCHOLAR for their Conference on "Bond, James Bond–the World of 007" to be held November 7 and 8, 2007 at the university. The award was established in 1985 in recognition of the outstanding role of the late founder of the Hofstra Cultural Center. Previous recipients of the award include such luminaries as E. L. Doctorow, Joyce Carol Oates, John Cage, Marilyn French, Lucine Amara, Tovah Feldshuh, Peter A. Quinn, Donald Spoto, Walter Isaacson, Peter Riddell, and many other scholars, historians, and artists. For more information on the Conference, watch this space as details emerge.
The first printing of the paperback edition of SWEETIE'S DIAMONDS sold out within a week of publication! So if your local bookseller is out and you're looking for a copy, Dorchester Publishing assures us that a second printing will be in the stores in the near future.
June 14, 2005
Japan has erected a museum honoring Raymond's Bond novel THE MAN WITH THE RED TATTOO! It will open July 24, 2005. Here's the official press release:
JAPAN HONORS AMERICAN "007" AUTHOR WITH MUSEUM
The government of Kagawa Prefecture in Japan has honored author Raymond Benson with a museum dedicated to one of his James Bond 007 novels. Between 1996 and 2002, Benson, a resident of Buffalo Grove, Illinois, was the third writer officially commissioned by the Estate of Ian Fleming, the original creator of James Bond, to pen 007 continuation novels. During his tenure, Benson wrote and published six original 007 novels, three film "novelization tie-ins," and three short stories. His sixth original novel, The Man With the Red Tattoo (published in 2002 in the U.S. by Penguin/Putnam and in the U.K. by Hodder & Stoughton), was set in Japan. A major part of the story takes place on Naoshima Island in Kagawa Prefecture.
Since the novel's publication, Kagawa Prefecture, Naoshima Town, and a number of other organizations have been working together to promote the cinematic adaptation and filming of the novel in a move to revitalize Naoshima and the wider Seto Inland Sea region. Their efforts have been receiving a great deal of attention in the Japanese media, leading to the construction of a facility which could be used to introduce the locations on the island.
The "007 The Man With the Red Tattoo Museum" aims to present Naoshima as a Bond location on a national scale, introduce visitors to the story of The Man With the Red Tattoo and other James Bond 007 novels, feature information on Benson and the other successive authors who have contributed to the legacy of 007, and exhibit material and memorabilia related to the novels and films.
Designed by Hidemi Inoue of Inoue Commercial Space Planning, The 007 The Man With the Red Tattoo Museum will open on July 24, 2005. It is located at 2310 Miyanoura, Naoshima (one minute from Myanoura Bay). For more information, contact the International Affairs Division, Kagawa Prefectural Government, Tel: 087-832-3026, Fax 087-837-4289.