PERSONAL APPEARANCES
Watch this space for upcoming events where you can meet Raymond.
TUESDAY, FEBRUARY 21, 2017; 7:00 PM
Glen Ellyn Public Library
400 Duane St.
Glen Ellyn, IL 60137
Call (630) 469-0879 for more info
SLIDESHOW LECTURE: "The James Bond Phenomenon" + book signing
*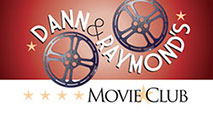 DANN & RAYMOND'S MOVIE CLUB EVENTS!
The 10th Season of DANN & RAYMOND'S MOVIE CLUB has kicked off, and we have added Palatine Public Library, which will feature Dann & Raymond every other month usually on the 2nd Wednesday (Aug., Oct., Dec., Feb., Apr., Jun.). The regular monthly shows will continue at the Schaumburg Township District Library on the 1st Thursdays of each month, and at the Arlington Heights Memorial Library on the 2nd Thursdays. There may be other library appearances during the year as well, so watch this space!
THURSDAY, FEBRUARY 2, 2017; 7:30 PM
DANN & RAYMOND's MOVIE CLUB!
Schaumburg Township District Library
130 S. Roselle Road
Schaumburg, IL 60193
Call (847) 985-4000 for more info
TOPIC: "Annual Night at the Oscars Show!"
WEDNESDAY, FEBRUARY 8, 2017; 6:30 PM
DANN & RAYMOND'S MOVIE CLUB!
Palatine Public Library
700 N. North Court
Palatine, IL 60067
Call (847) 358-5881 for more info
TOPIC: "Annual Night at the Oscars Show!"
THURSDAY, FEBRUARY 9, 2017; 7:30 PM
DANN & RAYMOND'S MOVIE CLUB!
Arlington Heights Memorial Library
500 N. Dunton Avenue
Arlington Heights, IL 60004
Call (847) 392-0100 for more info
TOPIC: "Annual Night at the Oscars Show!"
WEDNESDAY, FEBRUARY 22, 2017; 7:00 PM
DANN & RAYMOND'S MOVIE CLUB!
Grayslake Area Public Library District
100 Library Lane
Grayslake, IL 60030
Call (847) 223-5313
TOPIC: "Annual Night at the Oscars Show!"
THURSDAY, FEBRUARY 23, 2017; 6:30 PM
DANN & RAYMOND'S MOVIE CLUB!
Glenview Public Library
1930 Glenview Road
Glenview, IL 60025
Call (847) 729-7500
TOPIC: "Annual Night at the Oscars Show!"